Exclusive Pokemon
Talk

0
198pages on
this wiki
Exclusive Pokemon, also known as non-public, restricted, private, or personal Pokemon, are only allowed to be owned by a select few, or just one person. These Pokemon are usually admin-only Pokemon, tournament prize Pokemon, etc. None of these Pokemon are available to the public for free use. This page's sole purpose is to identify fraud.
Freakamon 

Added by

NOP Man
These Pokemon have a menacing, gothic appearance. This type of Pokemon was originally created by deltav. They were earned by competing in a Freakamon tournament hosted by deltav. The winner got to pick any Pokemon they wanted to have as a Freakamon. ( No Longer Available ) List of Pokemon:
Freaky Scizor (Belongs to Aiiiur)
Nightmare (A freaky Hydreigon. Belongs to deltav)
Freakingdra (A freaky Kingdra. Belongs to parky43536)
Chompers (A freaky Mew. Belongs to Bellade)
Freakachu (A freaky Pikachu. The FIRST Freakamon. Belongs to deltav)
Ghoulgar (A freaky Gengar. Belongs to crazytrex70)
Shadarchen (A freaky Archen. Belongs to rachetalpha. Shared with Aarron1.)
Devourer (A freaky Haxorus. Belongs to parky43536)
Gorechomp (A freaky Garchomp. Belongs to LordLoci)
Gorelax (A freaky Snorlax. Belongs to destroy555)
Pwnihard (A freaky Pawniard. Belongs to MewOnWindmill)
Satanitar (A freaky Tyranitar. Belongs to nakata1609)
Screepy (A freaky Scrafty. Belongs to parky43536)
Scolafreak (A freaky Scolipede. Belongs to parky43536)
Tournament Prize Pokemon
These Shiny and Special Pokemon are prizes from Tournaments usually hosted by an admin(s).
Shiny Celebi (Not Available)
Shiny Cubchoo (Not Available)
Shiny Mew (Not Available)
Shiny Pikachu (Coming Eventually)
Angelic Ho-Oh (RebeccaPierce, wolf238)
Mystic Latios (Blablabla10)
Shadow Lugia (purplechuwawa, thunder279)
Shiny Reshiram
Shiny Jirachi

Angelic Ho-Oh, and Mystic Latios.

Added by

Gamefreak776

Xerneas (Coming Soon)
Yveltal (Coming Soon)
Admin Personal Pokemon
These "Pokemon" can only be used by their respective Admin. They are personal Pokemon meaning they belong only to them and reflects on their personality: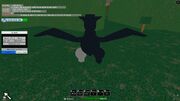 Shadow Reshiram (Owner does not want to be revealed)
Gentlemannerus (belongs to rachetalpha and deltav)
Blockbot (belongs to crazytrex70)
Red Orb Pikachu (belongs to crazytrex70)
Shadow Jirachi (belongs to dasfunny)
Dimension Jirachi (belongs to parky43536)
Primal Dialga (belongs to djboy)

Mewchomp (blablabla10)

Added by

Blablabla10

Reburst Parky (belongs to parky43536)
Techellow (belongs to parky43536)
Robo Venipede (belongs to parky43536)
Shiny Aggron (belongs to Zimio2)
Mewchomp (Belongs to parky43536, Bellade, chillydilly, and blablabla10)
Blue Yveltal (Belongs to Blablabla10)
Red Xerneas (Belongs to parky43536)
Shiny Cresselia (Belongs to Pielordninja)